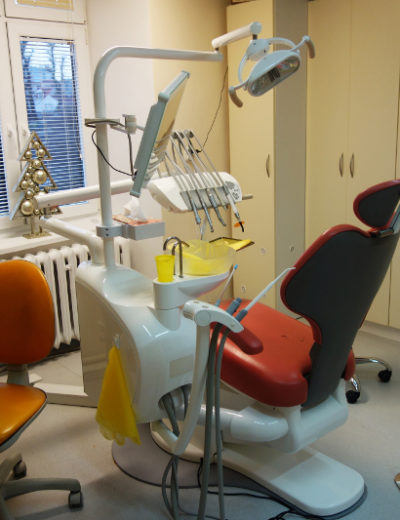 dentist Radosław Maksymowicz
dentist, implantologist
dent. In 1993, Radosław Maksymowicz graduated from the Medical Academy in Łódź – Dentistry Department. In 1998 he obtained the first degree of specialization in general dentistry.  In 2001 he completed post-graduate studies at the Maria Curie-Skłodowska University in Lublin in Management in the Health Service.
From 1993 to 2000 he worked in SP ZOZ No. 2 in Rzeszów, and from 1995 he started to work as a co-owner in NZOZ DentAR s.c. He is associated with the medical self-government. He has been a member of the Regional Medical Chamber in Rzeszów for the 4th term, at that time he was a member of the Vice President of the District Medical Chamber in Rzeszów, currently he is the Chairman of the Dental Committee of the Regional Medical Council in Rzeszów.
He conducts courses in the field of implantology, he is a co-author of scientific articles in the dental field. He is the initiator, organizer and leader of the Podkarpackie Scientific and Training Conferences as well as other forms of training for dentists, in which he gathered about 2,500 dentists. Participant of many international and national courses and conferences at home and abroad.
Membership in scientific organizations:
PSI "Polish Society of th Implantology" since 2008
DGOI "German Association of Oral Implantology" – since 2008
ICOI "International Congress of Oral Implantology" – from 2008
Fellowship PSI, ICOI, DGOI – since 2011During the International Congress of PSI / ICOI / DGOI and the 1st Congress of ICOI Europe, which took place in Krakow from 8 – 10 June 2017. the dentist Radosław Maksymowicz obtained the Diplomate of the Implantology Certificate confirming the highest skills in the field of implantology (implantologist PSI, ICOI and expert on dental implantology DGOI). The doctor obtained the title of three PSI / ICOI / DGOI societies as the first person in the Podkarpackie Voivodeship.